Appetizers
---
Pastiche Onion Soup
Classic onion soup topped with a baguette crouton and melted Gruyere.
10
Homemade Pommes Frites with Aioli
Homemade French fries with traditional aioli.
7
Charcuterie Plate
Daily selection of pates, rillettes, cured meats and sausages served with whole grain mustard, cornichons and crackers.
12
Escargots Bourguignonne
six escargots baked in garlic butter with toast points
14
Shrimp De Jonghe
shrimp, garlic, lemon, and brioche crumbs, drizzled with butter and baked
12
Calamari Steak
Dipped in egg and Parmesan, sautéed and served with lemon butter
16
Soup du Jour
Changes daily, but usually pretty good
8.00
Salads
Our dressings are made with imported extra-virgin olive oil and wine vinegars; we use minimal amounts of vinegar in order to not negatively affect the flavors of the wine you may be drinking. Each salad is made to order and if you'd like a little more vinegar please tell your server and we'll be happy to adjust accordingly.
---
Salade Lyonnaise
Frisee lettuce tossed in a light dressing with bacon, bleu cheese, a lightly poached egg and fresh baked croutons.
10
Classic Caesar Salad
Romaine lettuce tossed with baked croutons, Parmesan cheese, anchovy filets and traditional Caesar dressing*.
9
Pastiche Salad
seasonal greens tossed with raspberry vinaigrette and garnished with fresh berries, orange segments, shaved red onions, and fried won ton strips
9
Salade Betteraves
roasted beets served with mesclun, breaded warmed goat cheese medallion and balsamic dressing
10
Bistro Salad
Mesclun, radishes, cucumbers, carrots, peppers, tomatoes, fines herbs, croutons, red wine dressing
9
Entrees
---
Trout Almandine
lightly floured, sautéed, with almonds in beurre noisette
25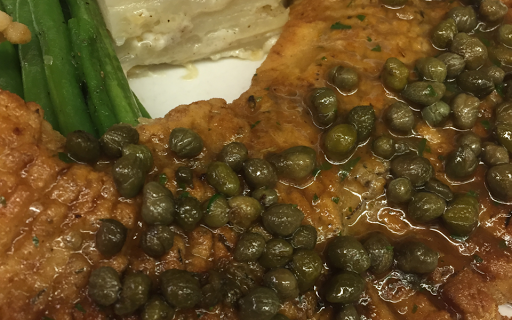 Raie Au Beurre Noisette
lightly floured skate wing, sautéed and finished with browned butter, capers and a few drops of fresh lemon juice
25
Pave de Saumon en Croute d'Herbes
seasonal salmon*, dijon, herb, breadcrumb crust, asparagus, roasted potatoes
27
Supreme de Volaille aux Morilles
pan-roasted chicken breast with morel mushrooms in a light Armagnac demi cream
28
Magret de Canard aux Cerises
pan-roasted duckling breast* with Door County cherries in a natural sauce flavored lightly with fresh cracked peppercorns
28
Poulet Grille
grilled chicken breast, preserved lemon, oil-cured Moroccan olives, oven-dried baby tomatoes, EVOO, roasted sweet corn risotto
26
Steak Frites
8oz. beef NY steak or 6oz beef filet, Maitre d'Hotel butter, homemade frites, aioli
24/29
Beef Entrecote Steak au Poivre
14oz beef NY steak crusted with cracked black peppercorns and finished with a cognac and shallot demi glace
38
Filet Mignon au Crabe
hand-cut beef filet, grilled to order, topped with crab leg meat and Bearnaise sauce
39
Filet de Porc*
pan-roasted pork tenderloin, dried bluebarry gastrique demi glace, glazed carrots, Dauphinoise
25
Filet de Boeuf Rossini
beef filet, foie gras, mushroom, truffle, Madeira sauce
39
Cotelette du Porc aux Pommes
grilled pork chop*, caramelized apples, cider sauce, haricots verts, glazed carrot, Dauphinoise
24
Carré d'Agneau
grass-fed lamb rack, brushed with mustard, dusted with herbed breadcrumbs, roasted pink and served with a natural sauce
42
Desserts
---
Creme Brûlée
traditional with fresh berries and a homemade cookie
8
Angela's Lemon Tart with Meringue and Caramel Sauce
refreshing lemon curd on a homemade crust, topped with meringue and served with caramel sauce
9
Chocolate Ganache Cake
flourless chocolate cake topped with chocolate ganache and served with raspberry sauce, crème anglaise and homemade raspberry Grand Marnier sorbet
9
Baked Alaska
layers of sponge chiffon cake and homemade ice cream under toasted meringue, with raspberry Grand Marnier sauce and creme Anglaise.
12